This week we want to share a 5 year returning HMGF volunteer – Tim Gustafson!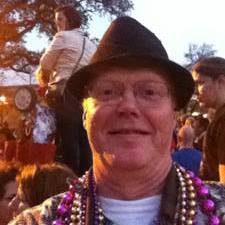 Tim loves Homegrown shows at Clyde Iron Works and Pizza Luce – especially the spot volunteers get to stand at Pizza Luce where they can watch the bands while they work! What a great perk – I bet that barely feels like work at all!
Tim's favorite homegrown moment is on opening night when our beloved former Mayor, Don Ness, would deliver a heartfelt speech, share the origin story of the festival, chronicle its growth into what it is today and then down a pint of Hempen Ale beer and declare the festival officially started!
Tim sees his role as a faithful HGMF volunteer as a way to see bands he wouldn't likely see other wise – we all understand the appeal of comfy pants and Netflix on the couch – but if he has signed up to volunteer he will get out and about and finds one of those previously unknown bands becomes one of his new favorite bands!
Tim recommends a glass of water for every alcoholic beverage and his pro-tip for the week is "Don't miss anything that includes Gabriel Douglas" Yessir Tim, we promise we won't!
Thank you Tim for 5 amazing years of service to this festival. We appreciate you and all out volunteers very much!
To join the homegrown volunteer team sign up at this link: https://airtable.com/shrmkaP5uL89ijBNd